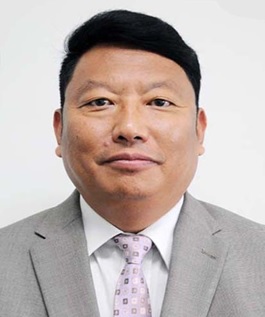 Shri E.Mhonbemo Patton, IAAS
Principal Accountant General (A&E)
From 31-05-2017 till date
Date of birth - 20-02-1966
Joined Indian Audit & Accounts Service in 1992
Shri. E. Mhonbemo Patton son of Er. Ezamo Patton Lotha and Mrs Mhonsali, was born on 20 February 1966. He belongs to 1992 batch of the Indian Audit &Accounts Service (IA&AS). He served as Commissioner & Secretary to the Government of Nagaland, prior to taking over as Principal Accountant General (A&E). He has a First Class Distinction Bachelor of Engineering degree in Electronics and Communications from Gujarat University, Ahmedabad.
He held various assignments at Shillong, Kohima, Bhubaneswar, Kolkata and Agartala. He has been twice, in 2001 and 2003, a member of the United Nations' External Audit team for the World Maritime University (WMU) at Malmo, Sweden. He attended a course on 'Strategic Planning' at The Business School, University of Auckland, New Zealand in June 2012. He was the Team Leader of the United Nations' Board of Auditors for UN Interim Mission in Lebanon (UNIFIL) at Naqoura, Lebanon in 2018.
He was a delegate in the 5th Assembly of the World Confederation of the Past Pupils of Don Bosco at Rome, Italy in October 2015. He has published a book titled "Orissa Power Sector Audit", regarding Power Sector reforms in Orissa and the changing role of Audit of Comptroller & Auditor General, published inside the Indian Audit & Accounts Department(IA&AD), 1998.
He is a Charter Member and Past President of Rotary Club, Kohima and a Life Member of Indian Red Cross Society. He represented Manipur twice in the Under 19 National C.K. Naidu Inter School Cricket Championship. He is a Life Member of the Institute of Public Auditor of India (IPAI).
He is married to Ms. Chichanbeni and are blessed with two sons and a daughter.